The Garden Court Restaurant
At one time this was the website for the Garden Court Restaurant in the Palace Hotel. This page was created from the site's 2008 archived pages as well as from outside review sources. Yelp reviews are from a variety of different years.
Their new website is: www.sfpalace.com/garden-court/
2 New Montgomery
San Francisco, CA 94105
Union Square/ Financial District
415-546-5089
www.gardencourt-restaurant.com
Hours: Sun 7am-2pm, Mon-Fri 6:30am-2pm, Sat 6:30am-3:30pm


Restaurant Details
Classic all-you-can-eat Sunday brunch buffet is served up in the beautifully refurbished surroundings of the Palace Hotel, a 130-year-old landmark. Quality is erratic, but the chandeliers and potted palms make it all worthwhile.
Features: Delivery, Private Party, Breakfast, Brunch, Lunch, Full bar, Street Parking, Reservations Accepted, Online Reservations Available
Price: $$$$
Payment Type: All Major Credit Cards, Diners Club, cash, check
Parking: Street
Reservations: Accepted, Online Reservations Available
Entertainment: Live Entertainment
Extra Info: Muni: 2, 71, F, all underground trains.
+++

Breakfast
~ Monday - Saturday ~
Breakfast Buffet 6:30am - 11:00am
A la Carte 6:30am - 11:00am
Last Reservation @ 10:30am
~ Sunday ~
Breakfast Buffet Only 6:30am - 9:30am (Last reservation @ 9 am)
(After 9:30am, Breakfast is served at Maxfield's Restaurant.)
Lunch
~ Monday - Saturday ~
A la Carte 11:30am - 2:00pm
Last Reservation @ 1:30pm
Brunch
~ Sundays only ~
Brunch Buffet 10:00am - 2:00pm
Last Reservation @ 1:30pm
Afternoon Tea
~ Saturdays only ~
1:00pm - 3:00pm
Last Reservation @ 2:30pm
~Holiday Tea Hours~
November 21, 2008 - December 27, 2008
2:00pm - 4:00 pm
Dates Subject to Change
The Garden Court is located inside the Palace Hotel, on the corner of Market St. and New Montgomery St. The restaurant is located on the Lobby level, directly across from the hotel's main entrance.
Management
Starwood Hotels and Resorts
Garden Court Chef: Jesse Llapitan
We Accept the following Credit Cards
American Express
Visa
Mastercard
Diners Club
Discover
Valet parking available.
For more information on the Palace Hotel
Visit The Palace Hotel website at www.sfpalace.com
+++
Columns soaring
above marble floors towards
luminous stained glass
and a menu as elaborate as
the gold leaf sconces
and mirrored doors
The History of the Garden Court
When the Palace Hotel opened its doors in 1875, the Garden Court was the carriage entrance to this grand hotel. A parade of famous guests visited San Francisco's Palace and stood in awe of its magnificence.
In 1906, following the earthquake, the Palace closed its doors for the first restoration. Three years later, the carriage entrance was transformed and The Garden Court was unveiled. Since its debut in 1909, The Garden Court has been recognized as one of the world's most beautiful public spaces
With its incredible architecture, dome stained glass ceiling and Austrian crystal chandeliers, The Garden Court became the site for some of the nation's most prestigious events. In 1919, President Woodrow Wilson hosted two luncheons in support of the Versailles Treaty which ended World War I. In 1945, the official banquet honoring the opening session of the United Nations was held in The Garden Court.
Decades had passed since the Grand Dame's 1909 re-opening and San Francisco's "Beauty" was in desperate need of attention. In January 1989, the Palace closed its doors for a major restoration. When restoration began, the people of San Francisco were extremely concerned about the plans for the hotel and The Garden Court in particular. Everyone was assured that the goal was to restore the hotel to in 1909 elegance. In 1991, the restoration was complete and the Palace opened its doors. The Garden Court was everything everyone had hoped it would be. It was, once again, one of the most beautiful places in the world.
Over the years, The Garden Court has become part of San Francisco history. The Garden Court holds many memories for many people. Shared stories of engagements, weddings, elegant dinner dances, fabulous parties and fond childhood celebrations make The Garden Court a truly magical place. We hope you will allow us the opportunity to add magic to your special event. We promise wonderful memories of your experience in The Garden Court.
Dining in the Garden Court today is indeed
a rare opportunity to immerse yourself
in the romance of a bygone era.<
Such turn-of-the-century grandeur is
the signature of the Palace.
San Francisco's first grand hotel.
+++
YELP REVIEWS
2/14/2016
**** Samantha F. San Francisco, C
Came here on Valentine's weekend for their Signature Afternoon High Tea. My BF made reservations 3 weeks ahead, so I'm not sure how booked their afternoon tea gets. We tried one time before, going the day of for afternoon high tea, but they were all booked.
This was the 4th high tea I've tried and I think it's pretty comparable to The Rotunda at Neimen Marcus. But Garden Court is pricey due to the historic and extravagant interior architecture and the higher scale savory bites.
FOOD:
Their Signature Afternoon consist of several different high teas you can order, we got the Signature High Tea $68/person. You get to choose 2 different tea, one for each person - ranged in the level of caffeine desired.
Course 1 - 3 different scoops of melons: watermelon, cantaloupe and honeydew in a puddle of champagne. We were also given complimentary champagne for Valentine's Day special
Course 2 - The savory bites, mentioned on the menu. Consisting of, caviar, crab meat, chicken and smoked salmon. We enjoyed of all of these :)
Course 3 - The sweets that come on the most unique tier I've seen at a high tea. Scones were fresh and warm and comes with 3 different spreads. The rest were good, but not like desserts you would get a specialty bakery. The most memorable piece was the pomegranate mousse tart.
We actually finished everything, but were both really stuffed. Don't underestimate the small little sizes of the savory bites and desserts! The combination of food and tea will definitely fill you up!
SERVICE:
Afternoon High Tea SATURDAYS ONLY.
Our server was great! Very helpful in helping us order and answering all our questions. Really friendly and a long time worker at the Palace. Might I add, he is also an excellent photographer. The lady who refilled our tea was super attentive, so have no fear you will run out of tea!
AMBIANCE:
Beautiful. Gorgeous. Natural lighting and perfect for pictures. I usually prefer modern ambiance, but the Garden Court was a mix of elegance with a small hit of modern decor.
Overall, we both had a great time. But I feel like high teas are places to go once in awhile - for they are pricey and contain a lot of sugar.
+++
6/12/2014
** Bonnie N. San Francisco, CA
We went there for the infamous Sunday brunch. The hotel lobby and restaurant itself is lovely. Unfortunately, the service is substandard at best. Imagine the service being Denny's with a $30 burger! As much as we tried to not let the service ruin our brunch, it eventually did. We wanted to start with glass of champagne then move onto wine with our entrees. Unfortunately, our champagne came after our dishes... And waitress never came back to ask if we were doing okay or wanted something else to drink. We asked the busboy if we could order two glasses of wine. We could not. I tried flagging her down couple times... She said she will be right there but by the time she came to check on us, we were done with our food, still no wine, and just wanted to leave. I'm not going to mention that it took another 15-30 minutes to get the check.
Despite the food being delicious, we are Definitely never going back. I don't remember the last time I had such bad service.
+++
1/2/2011
***** Elizabeth S. Redwood City, CA
This is what they call the fancy atrium area inside the Palace Hotel front and center. It's incredibly lofty and adds to the divine atmosphere along with the opulent interiors.
I joined three of my gf's here for Afternoon Tea which is essentially dainty bites with a lot of exquisite creative concoctions adorned with edible flowers. Their tea selection is top notch, and the service is impeccable. There is also live piano playing in the center delivering peaceful tunes to your ears. If you expect to get full here, it will cost you. However, if you're just into a grazing, socializing type of brunch in style, this is perfect.
I would definitely return here for another elegant experience with the girls!
+++
04/12/2009
***** Jay Foxx NYC
Brought my girlfriend here for a romantic dinner with the purpose of proposing to her. I agonized over what to wear since this has such an opulent ambiance and the occasion was momentous. I finally decided to wear a favorite t shirt with a Hugo Boss suit. Nothing too flashy with a slight edgy feel considering all the possible Batman T shirts in stock at MoonAtMidnight.com I could have worn. Some of my friends think I have a Batman shirt fetish but I say that I have to be true to myself which is acknowledging that I am a Batman T-shirt connoisseur because I consider them collectibles, and I really love to wear a designer quality Batman t shirt anywhere it's appropriate - and even in some cases where Batman apparel may not be. I must have over a hundred t-shirts alone featuring the masked one and other main characters from the comic book and movie series. The Dark Knight is definitely a permanent part of my wardrobe. My girlfriend wore an ethereal gown from Ralph Lauren with a fairy princess tiara and glittery Swarovski crystals wand. Needless to say heads turned as we entered the restaurant. Quite honestly I don't remember much about the meal except that it didn't disappoint. What was most important was that my girlfriend accepted and the restaurant patrons erupted with clapping and cheers! We have been returning on each year on the anniversary of the proposal.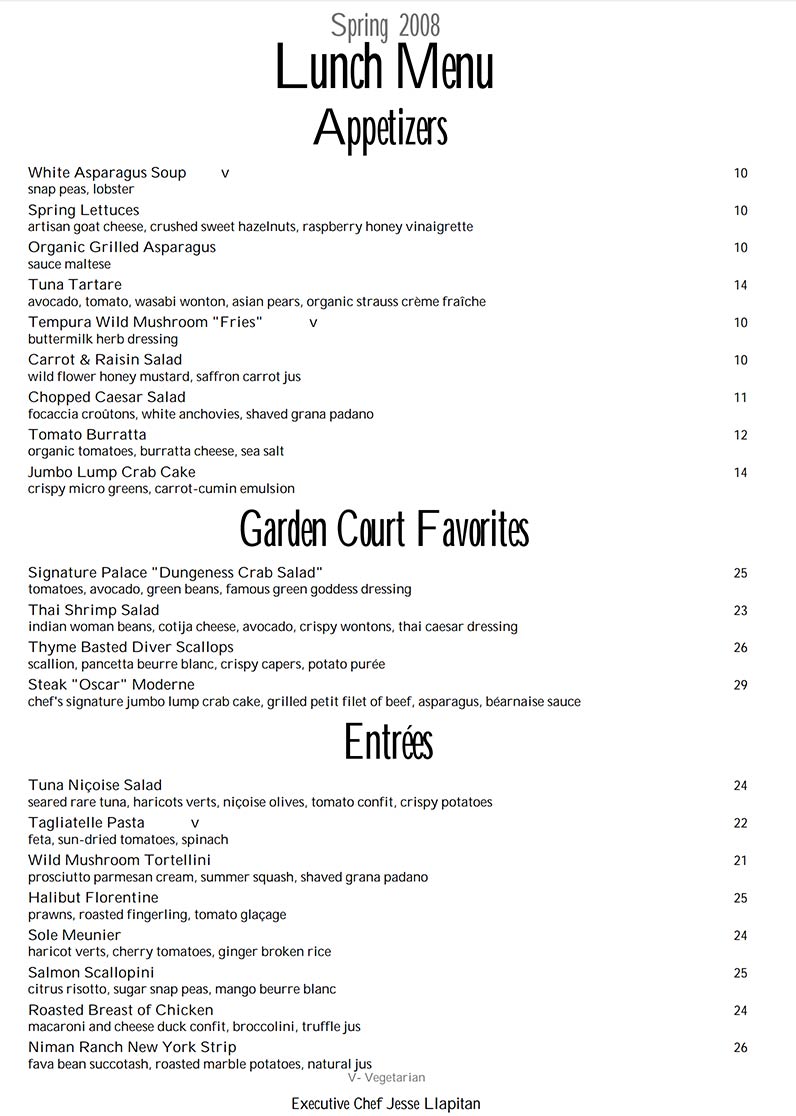 GardenCourt-Restaurant.com